Covid 19 - How does it look if you are visiting Martha's Vineyard?
HAVE A QUESTION?
Have a Question?
Covid 19 - How does it look if you are visiting Martha's Vineyard?
Image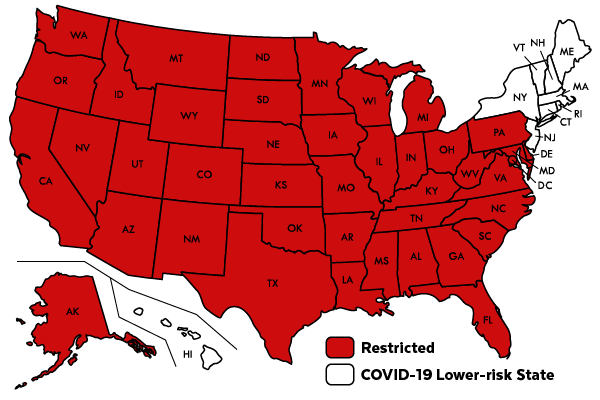 March 2022:
Whilst the mask mandate has now been lifted for schools, businesses, shops and restaurants, and we start to return to normal (or a new normal), its adviseable to be cautious if you have traveled or are showing symptoms of Covid 19 or one of the varients.  Please wear a mask if you are sick and around other people, and take a rapid test to rule out Covid-19
Island Healthcare continues to offer free testing at the Martha's Vineyard Ag Hall. Click here for more information or to schedule an appointment.
The Vineyard is set to have another busy summer in 2022 so we all hope that we can get through it without too many disruptions. 
March 2021: 
Please check the Mass.gov website for latest travel advisory to Massachusetts.
https://www.mass.gov/info-details/covid-19-travel-advisory
Current Covid 19 information including for Dukes County and Martha's Vineyard.
https://www.dukescounty.org/emergency-management/pages/coronavirus-information
Summer 2020:
Massachusetts Governor Baker announced a new travel order for the State this week, requiring all out of state visitors, (with some exemptions), to provide proof of a negative Covid 19 test result OR quarantine for 14 days if visitng the state.
How does this look for visitors to Marthas Vineyard?   Well, if you're coming from any where other than what are deemed at "Low Risk States", you will be required to complete the Massachusetts Travel Form and either provide a negative Covid 19 test result taken no longer than 72 hours befroe your arrival in to the state, or quanrantine for 14 days.  It applies to both residents returning to the state from high risk states and visitors.
The current list of COVID-19 lower-risk states includes: 
New Hampshire
New Jersey
New York
There are some other exemptions too - see link here for the details.
The "Covid-19 order number 45" was announced July 24th and takes effect from August 1st 2020 ans failure to comply may result in a $500 / day fine.