HAVE A QUESTION?
Have a Question?
Martha's Vineyard Real Estate Market Update is a service offered by Tea Lane Associates. Tea Lane Associates updates Martha's Vineyard real estate sales transactions on a weekly basis and posts reports and charts throughout the year for your review, including info on all homes and land sales on the island. Please let us know if you have any questions or would like more detailed analysis for properties in a specific town or price range. We have much more information to share with you on the Martha's Vineyard Real Estate market.
2022 MARKET REVIEW | KEY MARKET STATISTICS | 2022 TEA LANE HIGHLIGHTS
RECENT NEWS
WEEKLY REAL ESTATE TRANSACTIONS - week ending June 2, 2023

| Date | Street | Town | Price | Seller | Buyer |
| --- | --- | --- | --- | --- | --- |
| 5/31/23 | 26 Grovedale Rd | Oak Bluffs | $1,220,000 | Young | 26 Grovedale Rd LLC |
| 5/31/23 | 2 Lexington Ave | Edgartown | $1,550,000 | Gardner | Moji Capital LLC |
| 6/1/23 | 52 Marthas Rd | Edgartown | $2,100,000 | Saliture | Haldene LLC |
| 6/1/23 | 11 Witchwood Ln | Edgartown | $3,060,000 | Savodnik | 11 WW LLC |
| 6/1/23 | 61 Ocean Ave #6 | Oak Bluffs | $935,000 | Dority | Williams |
| 6/2/23 | 99 Summer St | Tisbury | $1,000,000 | 99 Summer St Realty Tr | Workforce Homes MV LLC |
| 6/2/23 | 90 Holly Tree Ln | Tisbury | $925,000 | Pankiewicz | Zussa/Hartnick |
---
Martha's Vineyard 2022 Real Estate Market Review
The Martha's Vineyard real estate market slowed dramatically in 2022 yet posted mixed results overall. The number of transactions decreased 34% from 707 transaction in 2021 to 468 transactions in 2022. Dollar volume declined 34% as well from $1.34bn in 2021 to $884mm in 2022. However, average price essentially held, falling just 0.4% from $1.896mm for 2021 to $1.888mm for 2022. Historically, the results from 2022 reveal a mixed reality. 468 transactions is the lowest activity level since 2011 for this market, but the dollar volume of $884mm is the third highest ever, and the average price remains at its record-breaking high established in 2021. 
Residential sales account for 86% of overall market dollar volume and 79% of transactions. Looking at residential specifically (including condo sales), transactions and dollar volume declined similarly to the overall market. However, average price rose 2% from $2.011mm in 2021 to $2.054mm in 2022, and median price rose 16% from $1.225mm in 2021 to $1.425mm in 2022. All towns on the island experienced increases in average prices for residential properties except Edgartown which saw a 9% decline in average price due to a significant decline in $10+mm sales in 2022 (compared to a record breaking 2021 in this segment).
After the two-year real estate boom the island experienced during 2020 and 2021 driven by the COVID pandemic and strong economic forces, 2022 was an inflection point. The 2022 slowdown was consistent across all towns and price points.
2022 was the third consecutive year with historically low inventory. The lack of inventory continued to be a major factor in the market. Although the peak inventory level was higher in 2022 (201 properties) versus 2021 (187 properties), each town experienced inventory levels ranging from 36-84% lower than 2019 (prior to the boom).
The lack of inventory was part of the Seller's Market dynamics of 2020 and 2021 which caused prices to rise to record breaking levels and the market in general moved toward the higher end. Pricing held at this level in 2022 and, not surprisingly, the entry segment of transactions under $1mm was squeezed further. 64% of transactions were over $1mm in 2022 versus 58% in 2021 and 28-46% in 2016-2020. However, the highest end of the market cooled somewhat in 2022 with just 4 sales at $10+mm in 2022 (versus 12 sales in 2021) and 13 sales at $7+mm in 2022 (versus 27 in 2021).
It's worth noting that although peak inventory was slightly higher in 2022 than 2021, the number of transactions in 2022 was significantly less. This may signal some buyer resistance to high prices which, coupled with higher interest rates, made purchasing more difficult for some buyers. Even though strong prices held, the decreased number of transactions tells its own story.
While the above statistics include all transactions and represent island-wide performance, individual towns and market segments reveal different dynamics. Martha's Vineyard is an island with six towns, each with its own character and specific market conditions. Within each town there are different niches as well…waterfront, water view, high-end, mid-range, entry level and commercial properties. Generalizing trends or making broad statements is challenging because each market segment can be, on its own, very small. However, it is worth diving into the different towns and niches to understand their role in the overall market performance.
Chilmark suffered from a continued lack of inventory in 2022 and posted just 22 transaction which is the lowest number of transactions for the town since 2009. Chilmark posted a 57% decrease in the number of transactions, from 51 in 2021 to 22 in 2022. Dollar volume decreased 38% from $130mm in 2021 to $81mm in 2022. The lack of inventory and strong high-end market caused average price to rise 44% from $2.550mm in 2021 to $3.68mm in 2022.
Looking at Chilmark's price segments specifically, the high end over $3mm remained healthy while activity in the $1-3mm range dropped off significantly and the under-$1mm market just about disappeared. There were 11 sales at $3mm+ in 2022 (versus 14 in 2021). There were 10 sales in the $1-3mm range (versus 20 in 2021) and there was just one sale under $1mm in 2022 (versus 17 in 2021). Note that there were no land sales in Chilmark in 2022 (versus 18 in 2021 – 12 residential parcels and 6 beach lots).  
Historically low inventory levels plagued the whole island in 2022, but Chilmark suffered the worst of it. Comparing peak inventory levels before COVID (2019) to 2022, Chilmark's peak inventory level was down 84%, the largest decline of all the towns. The peak inventory for Chilmark in 2022 was 10 properties, down from 20 properties in 2021, 36 properties in 2020, and 64 properties in 2019.
In 2022, Chilmark sales represented 5% of transactions and 9% of dollar volume island-wide. The average home sale price in 2022 in Chilmark was $3.68mm, which is the highest of all the towns.
West Tisbury's activity in 2022 mirrored the overall market. Transactions fell 33% in 2022 from 79 transactions in 2021 to 53 in 2022. Dollar volume fell 34% from $166mm in 2021 to $110mm in 2022. Average price dropped 1% from $2.096mm in 2021 to $2.071mm in 2022.
All price segments were affected by the slowdown in transactions. In 2022, there were 8 sales at $3mm+ (versus 15 sales in 2021), 30 sales in the $1-3mm range (versus 38 in 2021) and 15 sales under $1mm (versus 26 in 2021).  West Tisbury posted the second highest sale of the year in 2022 which was $14mm for a 22-acre waterfront property on the South shore with a four-bedroom home, pool, tennis court and private path to the beach and shared 1200' of beach.
In 2022, West Tisbury sales represented 11% of all transactions on the island and 12% of dollar volume. The average home sales price in West Tisbury in 2022 was $2.30mm.  
Aquinnah posted decreases across the board in 2022, for the second year in a row. Transactions declined 46% from 22 in 2021 to 12 in 2022, dollar volume decreased 58% from $30mm in 2021 to $13mm in 2022, and average price dropped 22% from $1.36mm in 2021 to $1.05 in 2022. 
Just as in 2021, in 2022 half of the transactions in Aquinnah (6) were land sales, four of which were beach lot sales (1 on Oxcart Road and 3 on Moshup Trail). Of the six residential sales, one was a foreclosure with questionable access rights, and the other five ranged in price from $975,000 to $3.4mm.  
This smallest market on the island represented 3% of total island-wide transactions and 1% of total island-wide dollar volume. The average home sale price in Aquinnah in 2022 was $1.77mm.
At first glance, Edgartown seems to have had a rough 2022 with double digit declines in transactions, dollar volume and average price. Transactions fell 30% from 239 in 2021 to 168 in 2022. Dollar volume decreased 40% from $632mm in 2021 to $376mm in 2022. Average price fell 15% from $2.65 in 2021 to $2.241mm in 2022. But when you compare Edgartown's 2022 performance to pre-COVID activity, Edgartown outperformed its 2019 numbers (which was historically a very strong year). Edgartown had the same number of sales in 2019 and 2022 (168) but 2022's dollar volume and average price both increased 8% from the pre-COVID 2019 market in Edgartown.  
All pricing segments felt the slowdown in 2022 but the extreme high-end of $10+mm had the most dramatic drop off, from 8 sales in Edgartown in this range in 2021 to 2 sales in 2022. Edgartown had two $20+mm sales in 2021 but the highest sale in the town in 2022 was $12.25mm for a Harborfront parcel with dock.
Edgartown sales represented 36% of transactions and 43% of total dollar volume island-wide in 2021. The average home sale price in Edgartown in 2022 was $2.46mm. 
In 2022, Oak Bluffs posted mixed results. The number of transactions decreased 31% from 170 in 2021 to 117 in 2022, dollar volume fell 16% from $198mm in 2021 to $166mm in 2022, and average price increased 22% from $1.16mm in 2021 to $1.419mm in 2022. The increase in average price was the result of a general shift upward with sale prices across all segments as well as a record-breaking waterfront sale of $14.75mm in 2022, the highest transaction ever recorded in the town, and the highest transaction of the year on the island. The median price in 2022 was $1mm, up from the median price in 2021 of $900k.
Oak Bluffs' transactions represented 25% of transactions on the island in 2022 and 19% of dollar volume. The average home sale price in Oak Bluffs in 2022 was $1.49mm, which is the lowest of all the towns.
Tisbury also reported declines in transactions and dollar volume, with an increase in average price. There was a 34% decrease in the number of transactions from 146 in 2021 to 96 in 2022, a 25% decrease in dollar volume from $185mm in 2021 to $138mm in 2022, and a 13% increase in average price from $1.27mm in 2021 to $1.44mm in 2022.
The high-end segment of Tisbury's market grew in 2022. There were 8 transactions over $3mm in 2022 versus 5 in 2021 (the segment grew from 3% to 8% of Tisbury's transactions). The mid-range $1-3mm held steady at approximately 40% of transactions both years. And sales under $1mm fell from 85 in 2021 to 48 in 2022 (this segment shrunk from 58% to 50% of Tisbury's transactions).
Tisbury represented 21% of transactions and 16% of dollar volume island-wide in 2022. The average home sale in Tisbury in 2022 was $1.55mm.
The entry level segment of the market, all sales under $1mm, continues to decline. The total number of sales under $1mm dropped from 298 in 2021 to 169 in 2022. The segment decreased from a market share of 42% of all transactions in 2021 to 36% in 2022. For buyers in this segment, including local families, it continues to be more difficult to enter the island real estate market, and is compounded by rising mortgage rates.   
This LINK chart included below gives a clear visual of the disappearing lower end of our market.
Image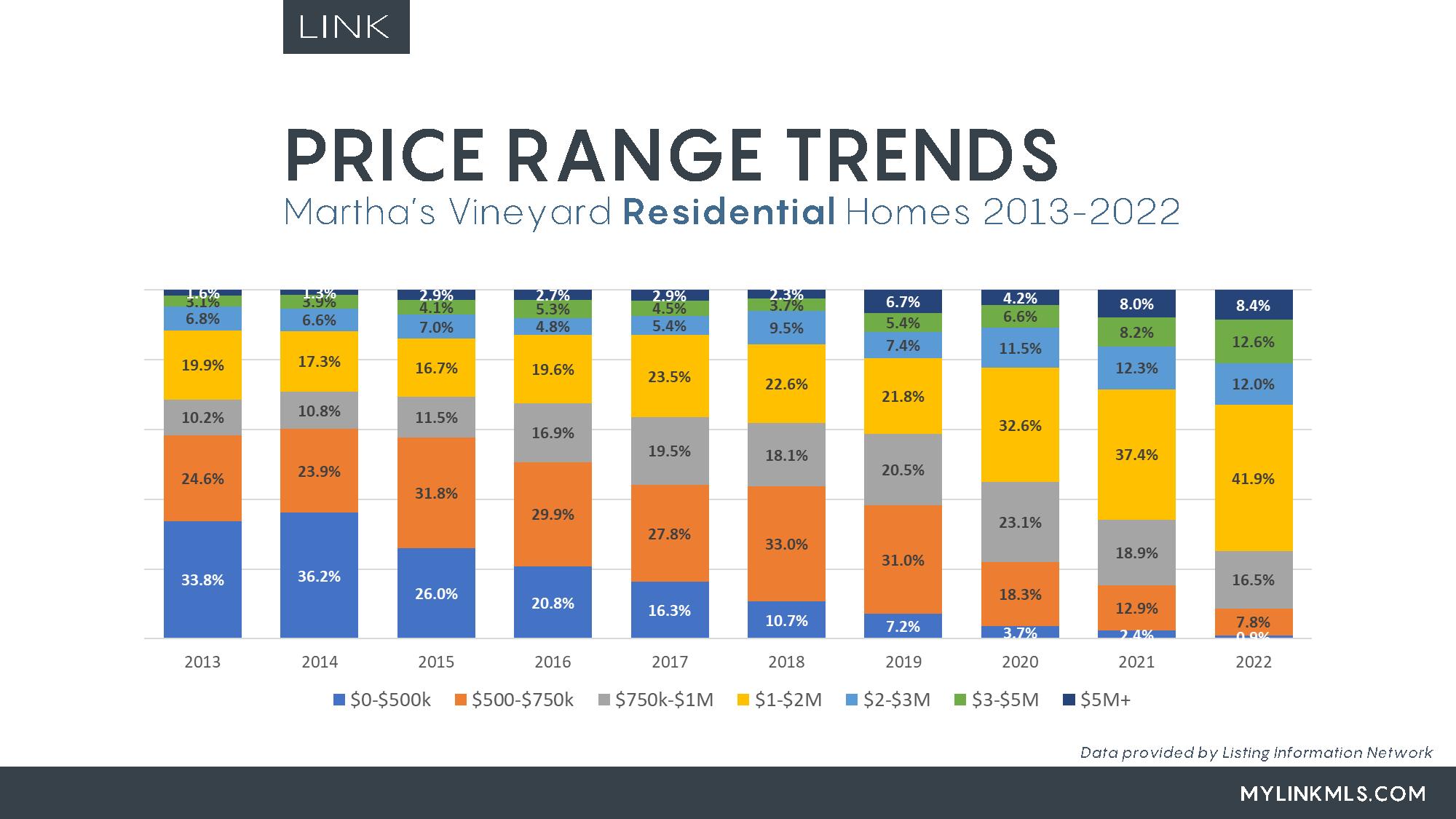 As the housing crisis for local families and workers continues, the effects of this crisis can be felt throughout the Vineyard community. We are losing young, creative people. We are losing friends and neighbors who move off island. We are losing businesses. Essential services are harder to come by as are the amenities which power our economy. Labor shortages are an ongoing reality. 
Local individuals, governments and organizations continue to chip away at this monumental issue with zoning by-law changes, rent subsidies and building new affordable housing. In the Spring of 2022, the proposal for a Martha's Vineyard housing bank was approved with landslide majorities in all six towns on the island. This proposal would implement a transfer tax on real estate transactions on Martha's Vineyard to create a fund for affordable housing. The legislation is currently at the state house in Boston with our representatives, working its way through the legislative process to become law and then return to the island for a vote on the implementation of the law in our towns. To find out more, go to the Coalition to Create a MV Housing Bank website (https://www.ccmvhb.org).
The results were mixed for high-end sales on the Vineyard in 2022. While all high-end sales $3+mm dropped 37% from 106 sales in 2021 to 77 in 2022, 77 sales at $3+mm is the second highest performing year on record. The category of $5+mm sales also reached second place with 30 sales in 2022 (versus 47 in 2021). However the segments of $7+mm and $10+mm dropped off dramatically (13 sales of $7+mm and 4 sales of $10+mm), trailing behind several years' performance.
In 2022, the $3+mm segment of the market represented 46% of total island-wide dollar volume (down from 48% in 2021) and 16% of all transactions (up from 15% in 2021). 
The highest transaction on the island in 2022 was the $14.75mm sale of a 1.4-acre waterfront, 7-bedroom home in Oak Bluffs near East Chop.
Sales of vacant buildable parcels decreased 23% from 100 transactions in 2021 to 77 in 2022. Dollar volume of land sales dropped 40% from $146mm in 2021 to $87mm in 2022.  These vacant buildable land sales represented 16% of all transactions on the island in 2022.
Chilmark was the only town with no land sales in 2022. Looking at high-end land sales, there were three transactions of $3+mm in 2022 (versus 12 in this category in 2021). These three sales in 2022 were in Edgartown and included a 4.2-acre waterfront parcel with 170' beach on Chappy for $3.3mm, a 5.85-acre parcel with 200' beach and a dock on Chappy for $4mm, and a 4.7-acre waterfront parcel on Katama Bay in Edgartown for $12.5mm.  
Beach Lots represent a separate segment of land sales. These are unbuildable properties which convey ownership in private beaches on the island. This segment dropped to 4 transactions in 2022, down from 11 in 2021. All four beach lot sales were in Aquinnah in 2022. It is impossible to hypothesize about this market segment because inventory drives it and the availability of these properties is erratic and unpredictable.
The sale of commercial properties slowed like the rest of the market. In 2022, there were 18 commercial transactions, down from 34 transactions in 2021 and 22 transactions in 2020. Of the 18 commercial transactions in 2022, 7 were in Tisbury, 6 were in Edgartown, 3 were in Oak Bluffs, 1 was in West Tisbury and 1 was in Chilmark. The highest priced commercial transaction was the sale of the Lambert's Cove Inn in West Tisbury for $6.45mm. The Chilmark commercial transaction was the sale of the Homeport Restaurant in Menemsha for $2.575mm.
Commercial sales represented 4% of transactions and 4% of dollar volume island-wide in 2022.
Conclusion
2022 was a complicated year. The record-breaking prices and historically strong dollar volume of 2022 was offset by a dramatic slowdown in activity and a continued lack of inventory. Combine those factors with rising interest rates, uncertain financial markets and ongoing global tragedies, and there is just no telling where we are headed in 2023.
Economists differ in whether they foresee significant price drops in the U.S. housing market in 2023 and 2024 or whether they believe that the current record prices, particularly in areas with low inventory, will mostly hold.  The Vineyard market in 2022 mirrored the national market in many ways…high prices, fewer transactions, low inventory. Existing home prices in the U.S. soared 45 percent from December 2019 to June 2022, the start of the pandemic to the summer peak in pricing, the biggest jump ever recorded in such a short window of time, according to Standard & Poor's CoreLogic Case-Shiller Home Price Index.  (NY Times, "The Housing Market is Worse than You Think", Stephanos Chen, November 4,2022). 
There are hints that Vineyard prices will remain high due to unmet demand. Last year we talked about the lack of inventory and that this scarcity could also be described as an abundance of demand, a demand that built up during the COVID pandemic for a multitude of reasons, and still has not been fulfilled. According to LINK, 16.5% of transactions in 2022 sold for over asking price, compared to 3.1% in 2019 prior to the pandemic. These sales over asking price occurred in all price segments except the $5+mm segment.  These statistics support anecdotal evidence about competitive bidding and the backlog of buyers waiting for properties.
Looking into 2023, as we said last year, it remains a great time for Sellers to make a move. Prices are strong and inventory is low. If you are considering selling, feel free to reach out to us for more information.
For Buyers, there are some signs that the market may be shifting. However, if your timeline is "near future", it is important to consult with your agent to better understand the market and strategize so that you can move quickly when the right property appears.
After we emerged from COVID in 2022, it's nice to be together again! Welcome to all of our new neighbors on the island, full-time and part-time. For those continuing to visit and dream of an island home, we hope 2023 is the year for you and we are here to help make that happen!
KEY MARKET STATISTICS
Image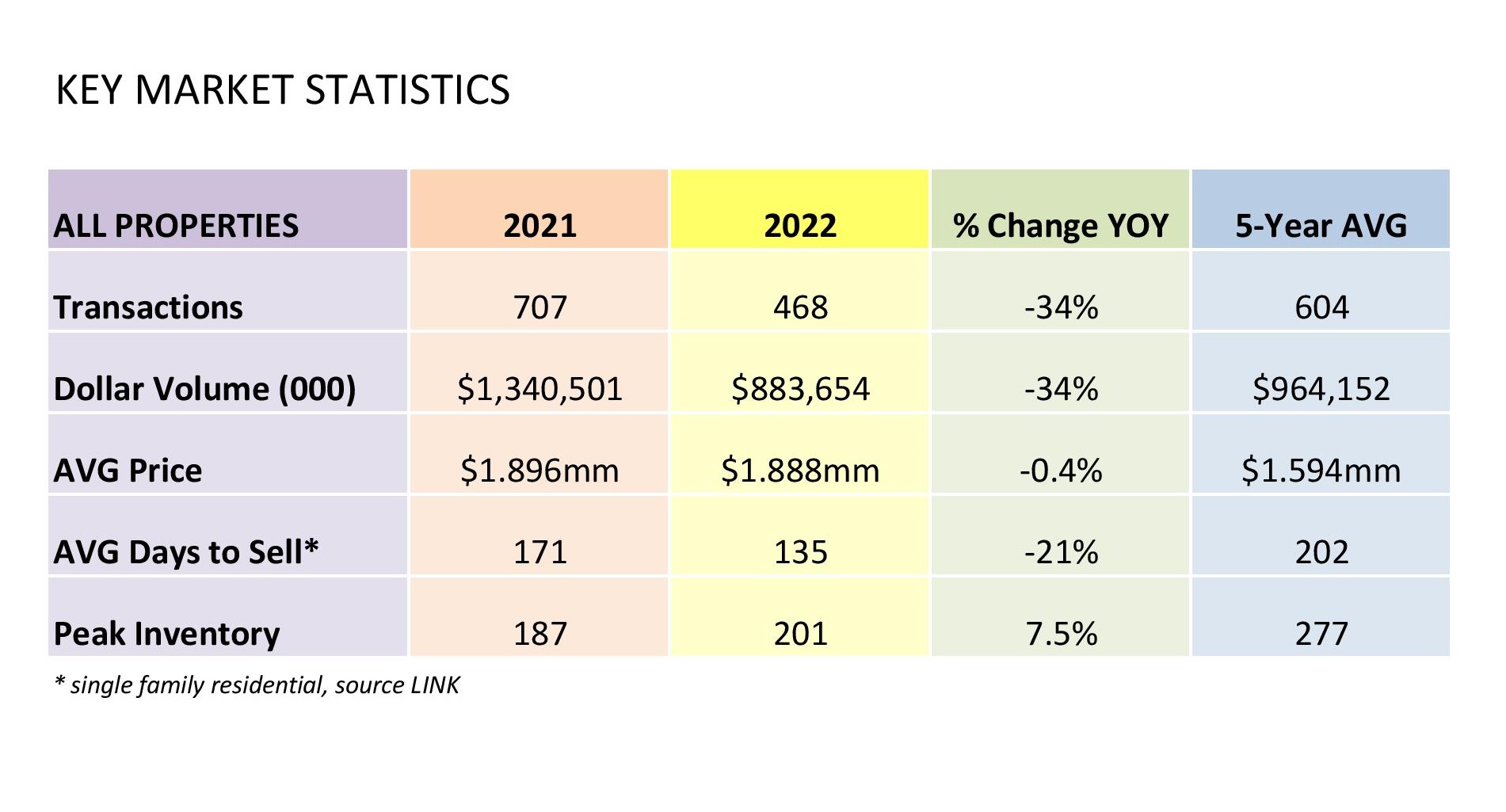 Image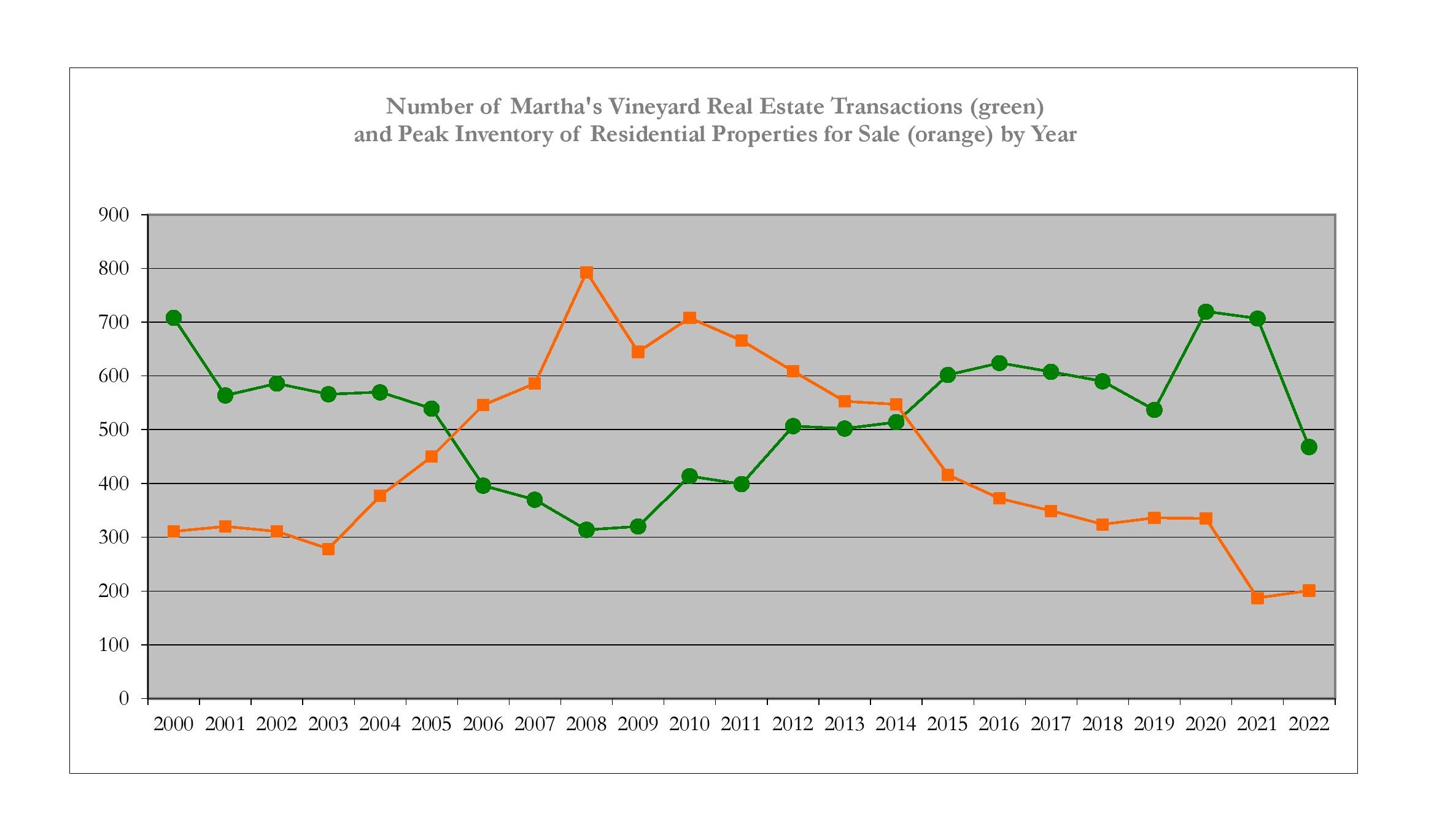 Image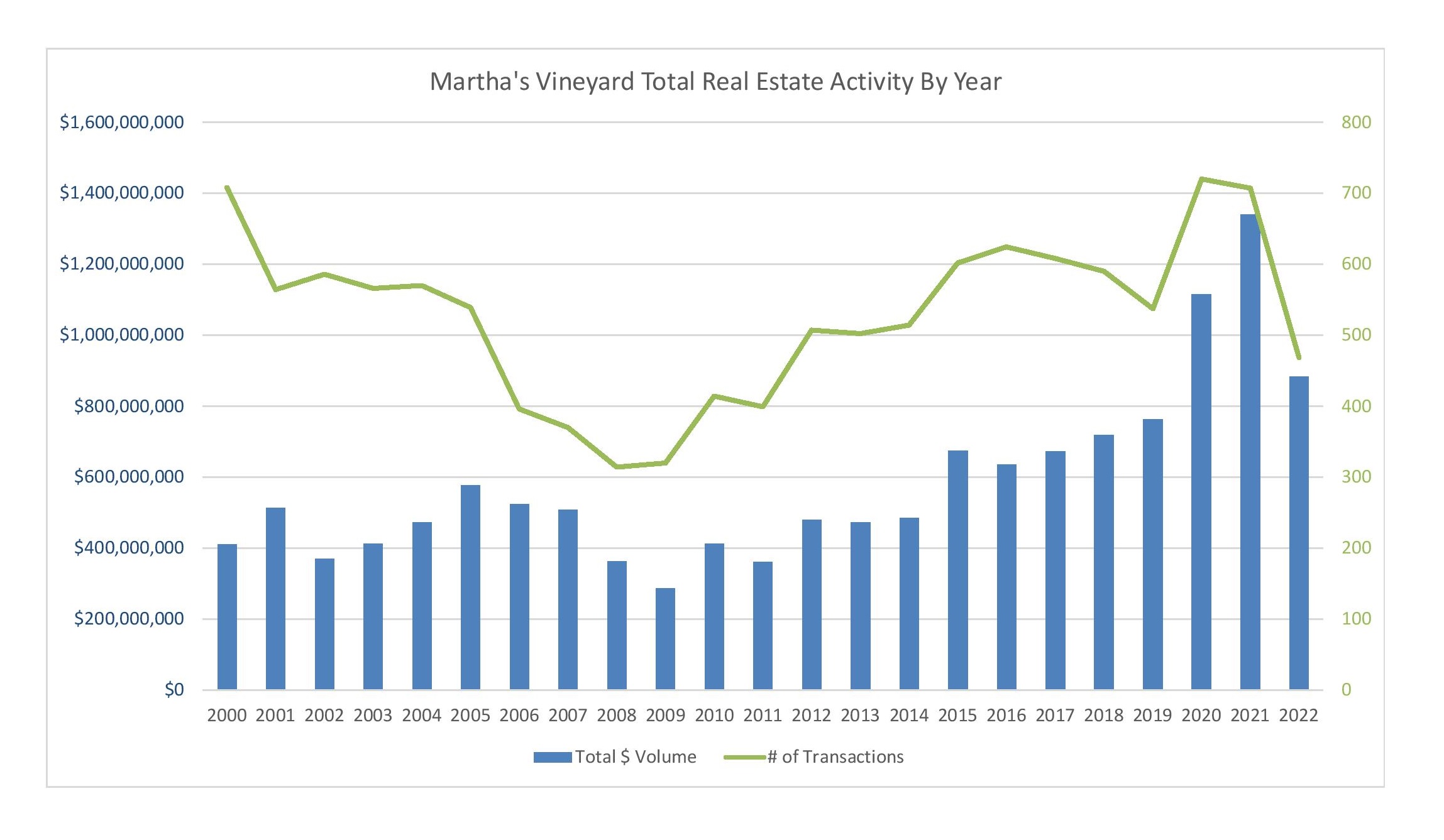 Image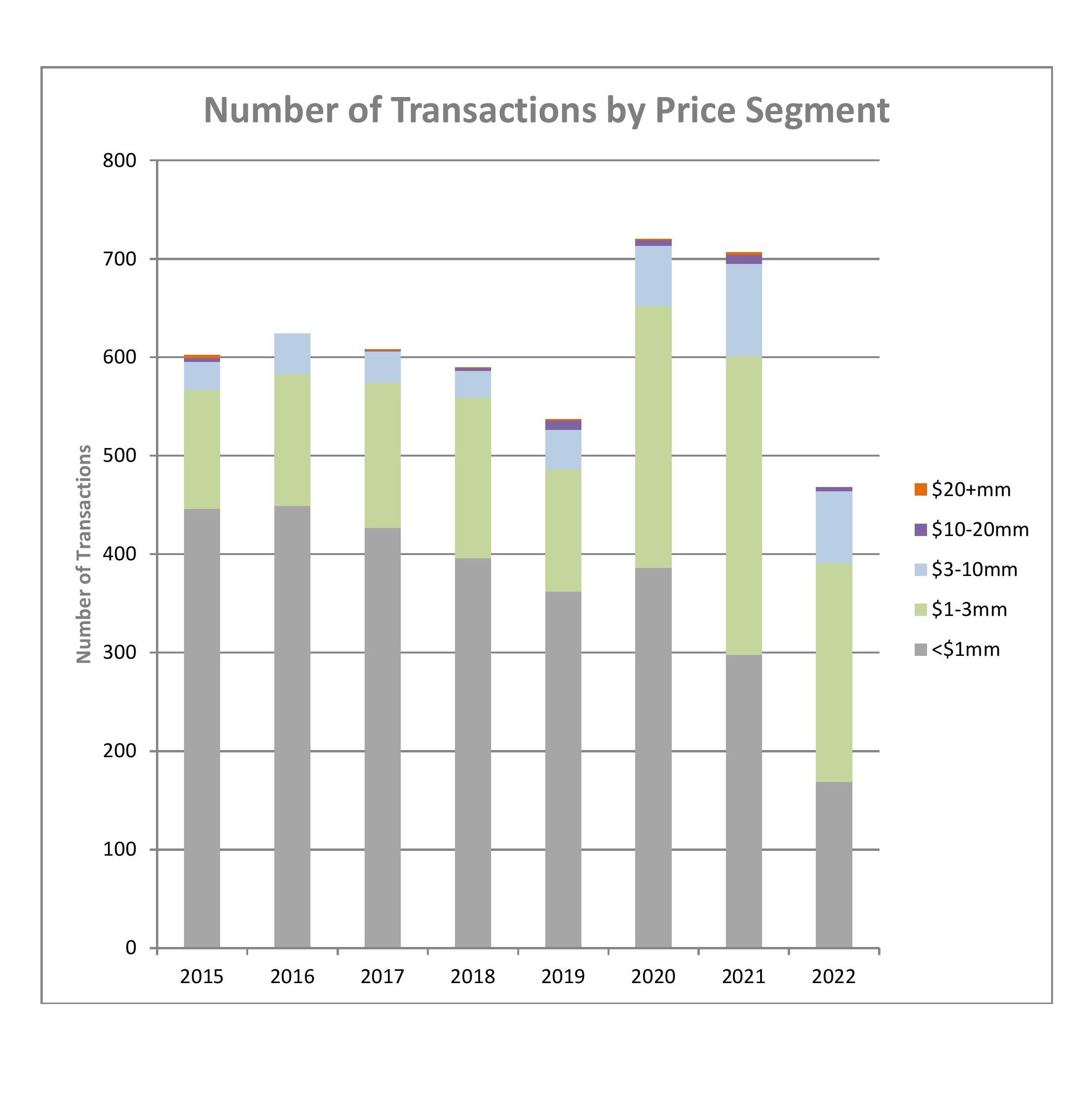 Image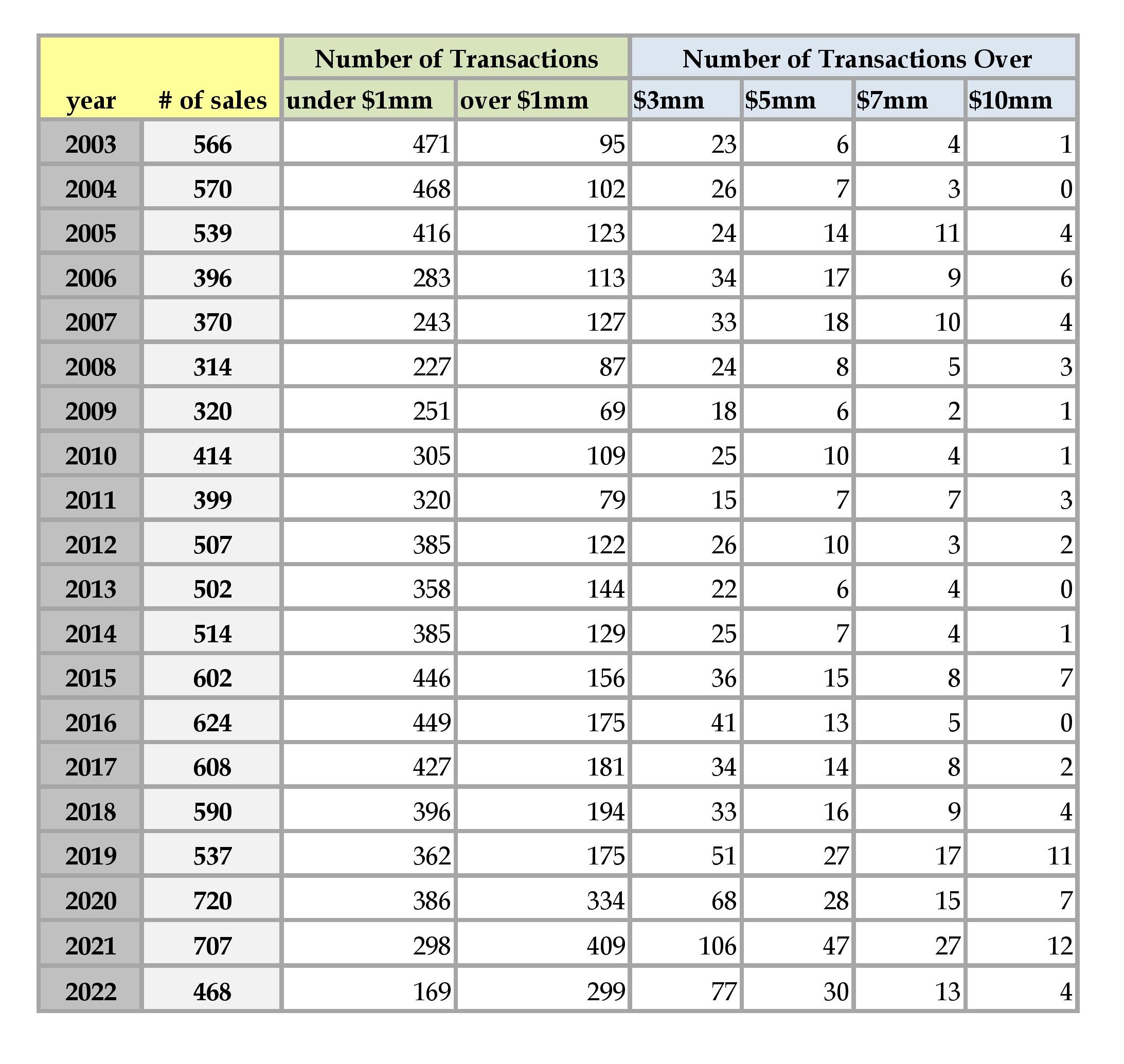 Image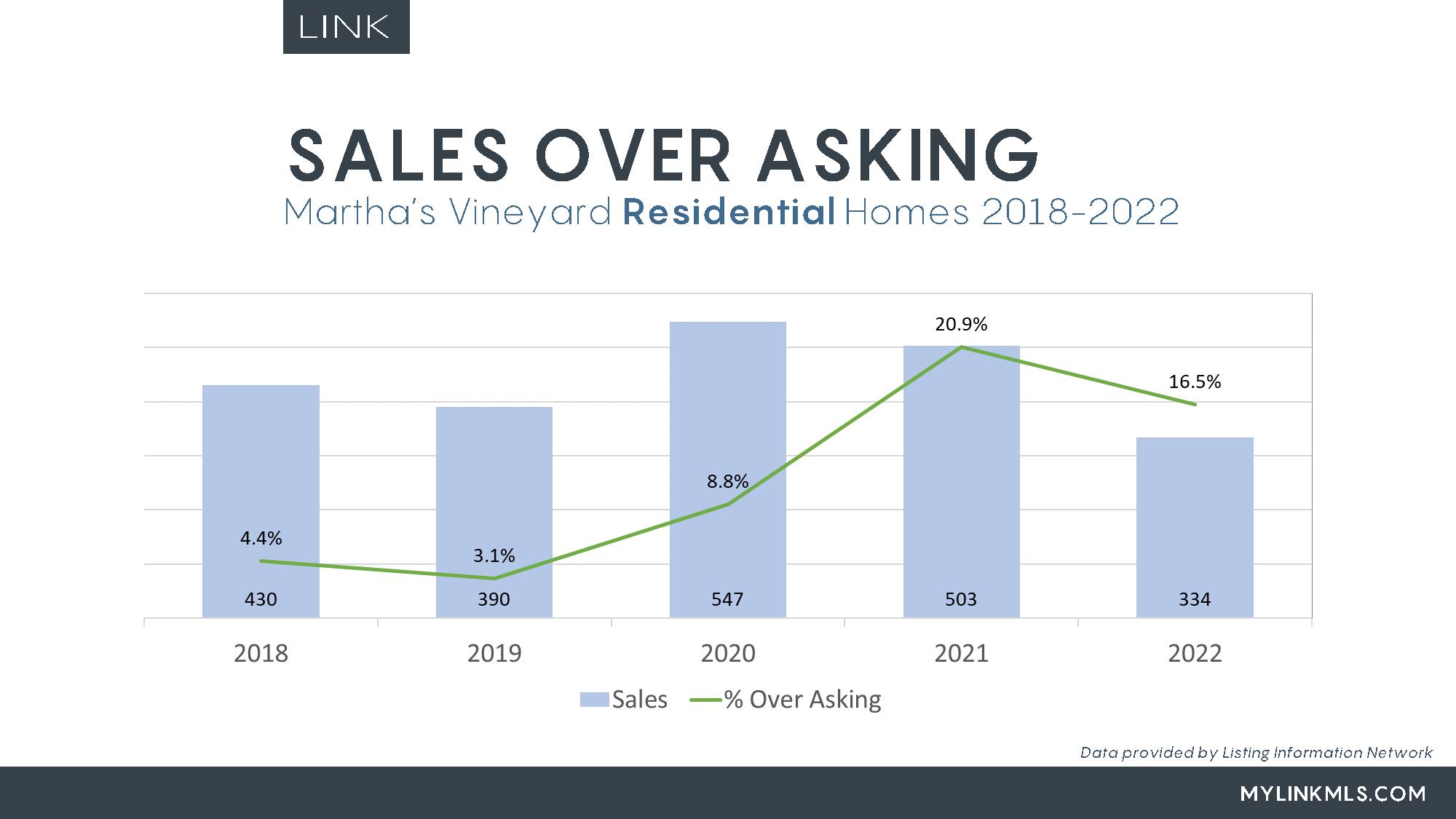 Image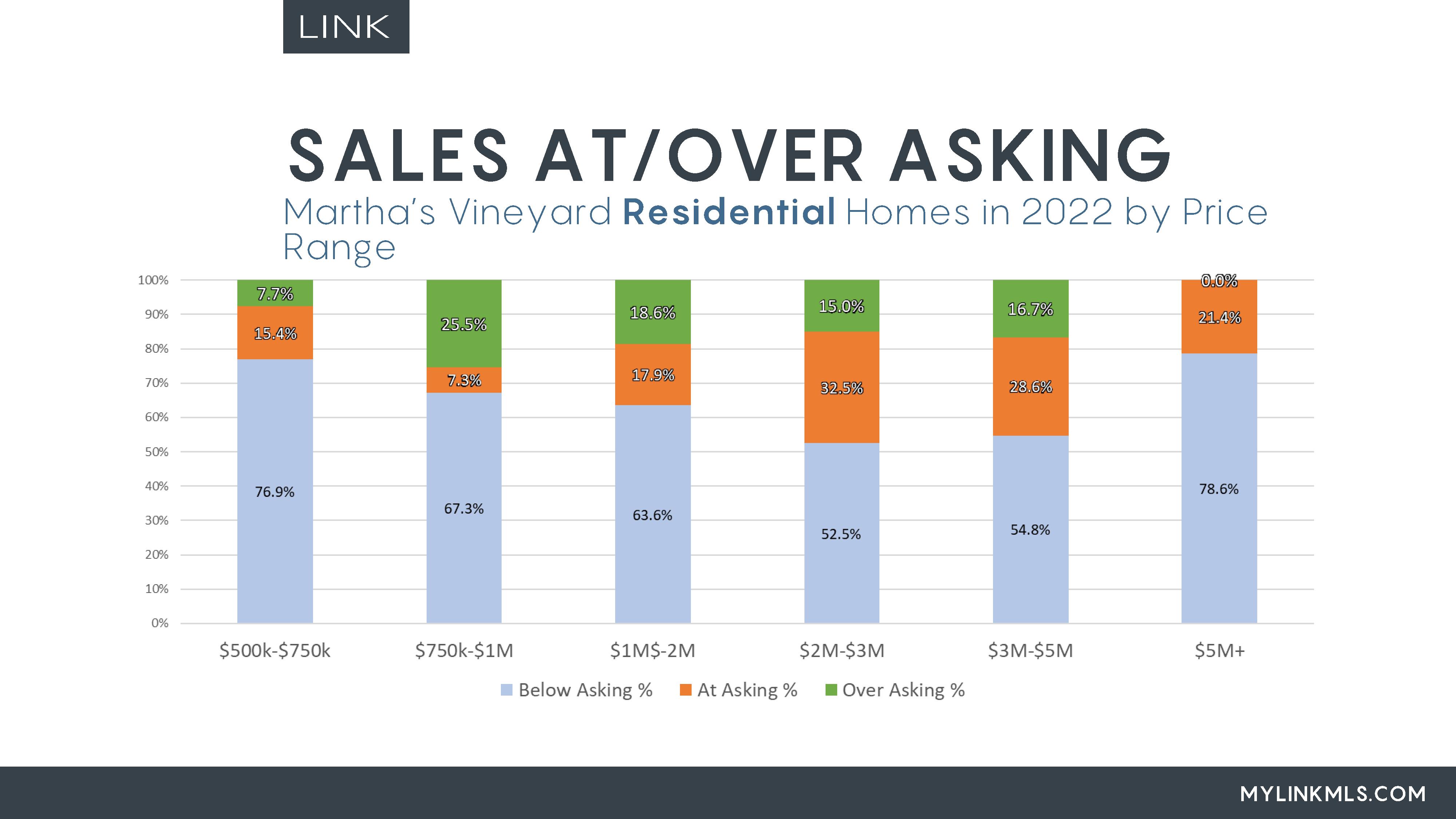 TEA LANE ASSOCIATES' YEAR-END HIGHLIGHTS
Tea Lane Associates represented the buyer and/or seller in three of the five highest brokered sales on Martha's Vineyard in 2022, and four of the top eight.
Tea Lane Associates listed an expansive waterfront property on West Tisbury's south shore which sold for $14,000,000. This was the highest brokered sale on Martha's Vineyard in 2022.
Tea Lane Associates sold property in all six towns in 2022 representing buyer and/or seller in three of the four highest sales in Chilmark, four of the six highest sales in West Tisbury, the highest sale in Aquinnah as well as two of the eight highest brokered transactions in Edgartown.
Tea Lane Associates' sales represented 37% of all up-island sales dollar volume, and 13% of dollar volume island-wide.
Tea Lane Associates represented the buyer and seller in a portion of the sales of Stillpoint Meadows in West Tisbury to the Land Bank. This sale was significant in the preservation of waterfront land on Crocker Pond and Priester's Pond as well as providing miles of pristine walking trails.
Tea Lane Associates represented buyers and sellers at all price points.  We worked with buyers who have been coming to the Vineyard for their lifetime and buyers who discovered the island more recently, with buyers who were upgrading on the island, and with buyers who were down-sizing. We helped families purchase their year-round homes, and buyers who were setting up for retirement. We worked with sellers (individuals, groups of family members, trustees, business partners) to list and sell a wide range of properties from vacant land, to new construction, to beloved generational family homes.  All are an important part of what we do and we were honored to be part of a new chapter in our clients' lives.