2021 MARKET REPORT - what's happening with the Martha's Vineyard real estate market
HAVE A QUESTION?
Have a Question?
2021 MARKET REPORT - what's happening with the Martha's Vineyard real estate market
Image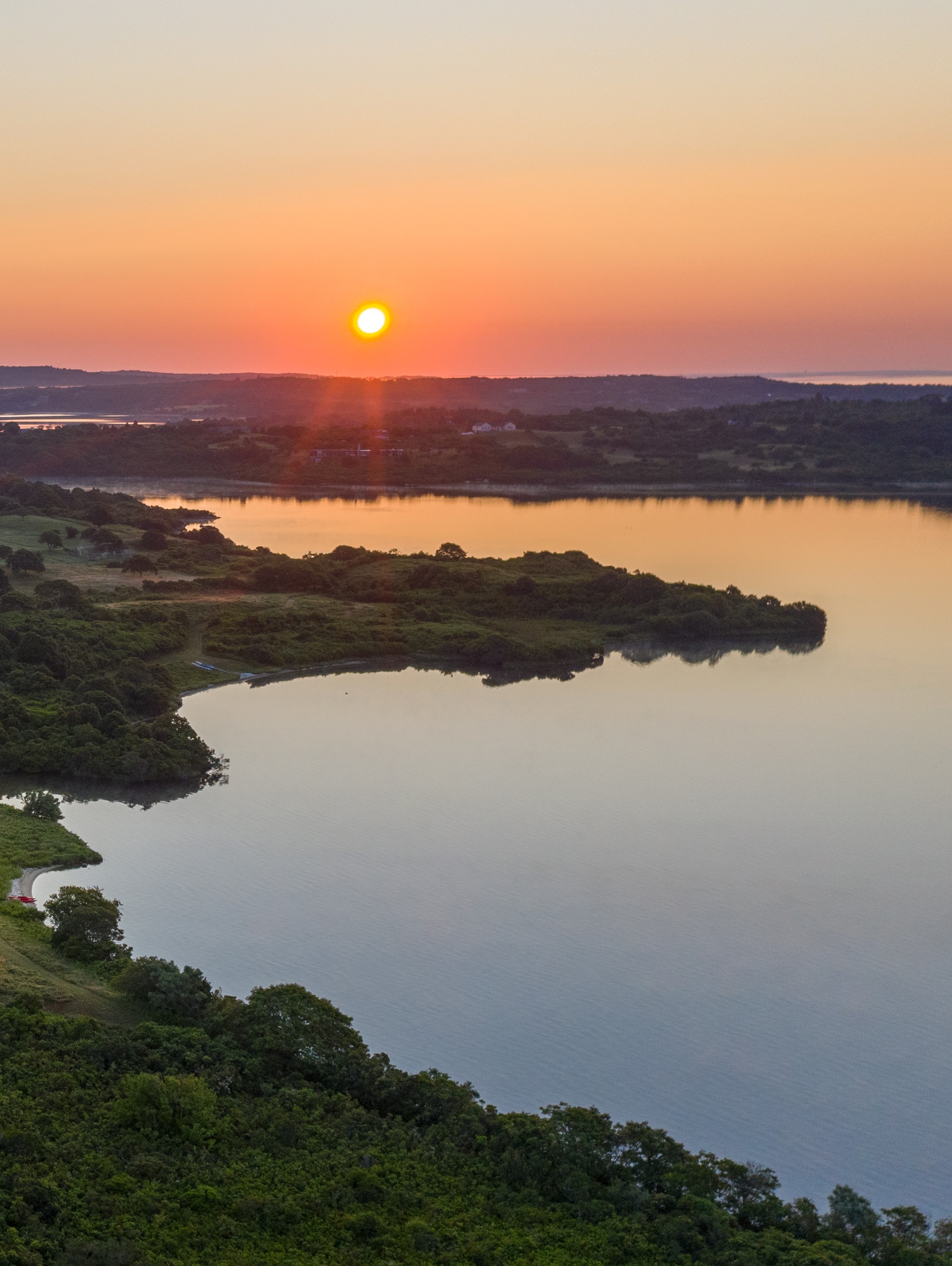 TEA LANE 2021 YEAR-END HIGHLIGHTS
Tea Lane Associates sold property in all six towns in 2021 including:
The three highest priced sales in West Tisbury (and 8 of the top 10)
Three of the five highest priced sales in Chilmark
Two of the three highest brokered sales in Aquinnah
68% of all transactions in Chilmark over $2mm
67% of all transactions in West Tisbury over $3mm
Tea Lane Associates' sales represented 38% of all up-island sales dollar volume, and 12% of dollar volume island-wide. In Chilmark, Tea Lane Associates' sales represented 46% of dollar volume and 43% of transactions. In Aquinnah, Tea Lane Associates' sales represented 22% of dollar volume and 18% of transactions. In West Tisbury, Tea Lane Associates' sales represented 35% of dollar volume and 15% of transactions.
Tea Lane Associates represented buyers and sellers at all price points.  We worked with buyers who have been coming to the Vineyard for their lifetime and buyers who discovered the island more recently, with buyers who were upgrading on the island, and with buyers who were down-sizing. We helped families purchase their year-round homes, and buyers who were setting up for retirement. We worked with sellers (individuals, groups of family members, trustees, business partners) to list and sell a wide range of properties from vacant land, to new construction, to beloved generational family homes.  All are an important part of what we do and we were honored to be part of a new chapter in our clients' lives.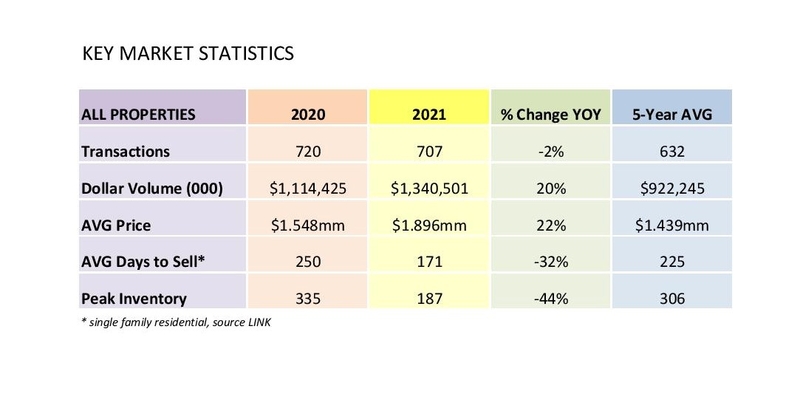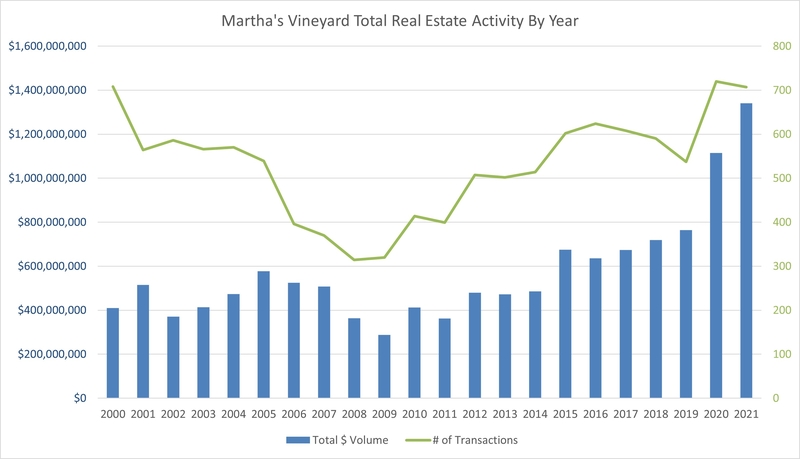 MARTHA'S VINEYARD 2021 REAL ESTATE MARKET REVIEW
The Martha's Vineyard real estate market continued its rally in 2021 to keep pace with the record-smashing year of 2020. Although the number of transactions slipped 2% to 707 (down from 720 in 2020), the overall dollar volume gained 20% to a new high record of $1.34bn in 2021 (up from $1.114bn in 2020). It is the second year in history, and consecutively, that the Martha's Vineyard market has surpassed the $1billion threshold. The average sales price, island-wide and across all categories, rose 22.5% to $1.896mm, another record breaking high.
Unlike the consistent uptick in performance across all six island towns in 2020, the results by town in 2021 were mixed. Driven by a strong high-end segment, all towns except Aquinnah experienced increased dollar volume and increased average price, but only two of the six towns on the island posted gains in the number of transactions – Oak Bluffs and Tisbury. 
Lack of inventory was a major factor in the market in 2021. Even though 2020 was a low inventory year compared to previous years, 2021 saw even sparser inventory. Looking at the numbers, the peak inventory of 187 properties in 2021 was down 45% (from the peak of 338 properties in 2020), and peak single family residential inventory of 136 in 2021 was down 40% (from 227 in 2020). It's worth noting that these peaks were misaligned. Peak inventory traditionally occurs in the middle of the summer season as it did in 2020 occurring the week of July 10, 2020. But the peak in the 2021 market occurred later during the week of October 8, 2021, perhaps due to Sellers reacting to the strong sales data from the summer and deciding to take advantage of the opportunity at hand. In any case, the inventory levels in 2021 ran at 40-60% below 2020 for most of the year until October when inventory fluctuated between 28-39% below the 2020 level of inventory.
But the inventory story doesn't end there. Some segments of the market definitely suffered a lack of inventory; however, the fact remains that during this incredibly low inventory year, the island experienced its second highest number of transactions ever (707 transactions in 2021). Certainly some transactions occurred without properties ever hitting the open market but, more significant numbers of properties moved so quickly that the inventory numbers never caught up – i.e. demand for properties was so high and properties were selling so quickly that there were fewer properties lingering on the market and the overall inventory numbers never had time to accumulate.
As demand continued at high levels in 2021, Seller's Market dynamics drove multiple offers. Quick turnaround on many properties caused prices to rise to record breaking levels and the market in general moved toward the higher end. For the first time ever, the number of sales on the island over $1mm (409) was higher than the number of sales under $1mm (298). That means that 58% of transactions were over $1mm in 2021 versus 46% in 2020 and 28-33% in 2016-2019. Perhaps even more significant was the thriving high end of the market in 2021 with new records for the number of transactions $3+mm, $5+mm, $7+mm and $10+mm. There were 106 transactions at $3+mm in 2021 (versus the previous record of 68 in 2020), 47 sales at $5+mm in 2021 (versus 28 in 2020), 27 sales at $7+mm in 2021 (versus 17 in 2019) and 12 sales at $10+mm in 2021 (versus 11 in 2019). Sales at $3+mm represented 15% of all transactions in 2021 (versus 8% in 2020) and 48% of dollar volume in 2021 (versus 30% in 2020).
There were two $25mm sales in 2021, a 60-acre ocean front farm in Chilmark and an Edgartown waterfront compound on Katama Bay with dock. The 60-acre Quenames Farm on the South Shore of Chilmark sold for $25mm on 11/15/21. It included nine bedrooms across three residences – a farmhouse, main house and bunk house – plus farm fields and 800 feet of Atlantic beachfront. The 6-bedroom/6.5-bathroom Katama Bay waterfront property at 17 Faulkner Drive sold for $25mm on 12/1/21. This property last transferred in January 2014 for $8.7mm at which time the structures were torn down and rebuilt including over 8700 square feet of living space plus pool, pool house with kitchenette and a dock on Katama Bay.
While the above statistics include all transactions and represent island-wide performance, individual towns and market segments reveal different dynamics. Martha's Vineyard is an island with six towns, each with its own character and specific market conditions. Within each town there are different niches as well…waterfront, water view, high-end, mid-range, entry level and commercial properties. Generalizing trends or making broad statements is challenging because each market segment can be, on its own, very small. However, it is worth diving into the different towns and niches to understand their role in the overall market performance.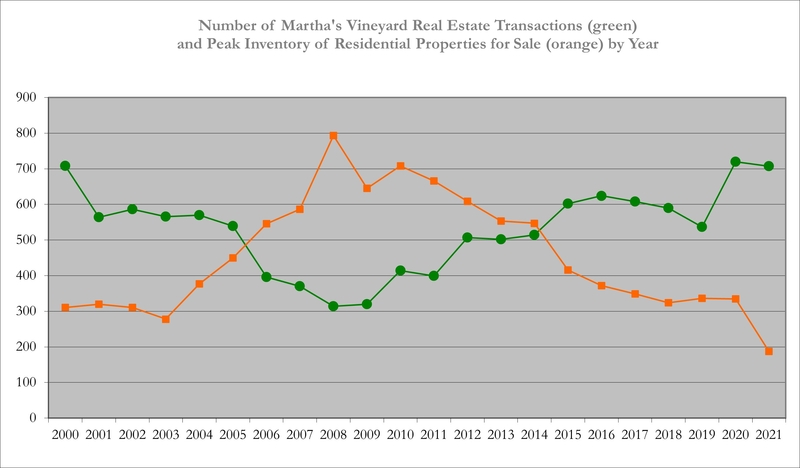 UP-ISLAND
 
Chilmark
2021 was a solid year for Chilmark despite limited inventory and mixed results. Chilmark posted a 15% decrease in the number of transactions, from 60 in 2020 to 51 in 2021, but dollar volume was up 21% from $107mm in 2020 to $130mm in 2021 and average price rose 43% from $1.788mm in 2020 to $2.550mm in 2021.
Chilmark's growth in dollar volume and average sale price was due to the growth in its high-end over $3mm. There were 14 sales at $3mm+ in 2021 (versus 9 in 2020), and the highest price sale in 2021 was $25mm (versus $9.2mm in 2020).  Land sales were steady at 19 sales in both 2021 and 2020 but, despite double the number of beach lot sales (6 in 2021 versus 3 in 2020), the dollar volume of land sales grew 28% to $20.1mm in 2021 (up from $15.7mm in 2020).  
Although Chilmark performed well in 2021, a lack of inventory in the mid-range ($1-3mm) tempered Chilmark's results for the year. Chilmark's peak inventory level in 2021 was 20 properties, down from 36 properties in 2020, 64 properties in 2019 and 59 in 2018.
In 2021, Chilmark sales represented 7% of transactions and 10% of dollar volume island-wide.
West Tisbury
West Tisbury posted strong gains in dollar volume and average price in 2021 but number of transactions was down for the year. Transactions fell 7% in 2021 from 85 in 2020 to 79 in 2021. However, dollar volume for the town grew 38% from $120mm in 2020 to $166mm in 2021 and average price surged 49% from $1.4mm in 2020 to $2.1mm in 2021.
Similar to Chilmark, the growth in the West Tisbury market in dollar volume and average price was due to high end sales. In 2021, there were 15 sales at $3mm+ (versus 8 sales in 2020) and 7 sales at $5mm+ (versus just one sale in 2020).  The highest sale in West Tisbury in 2021 was $9mm (versus $5.5mm in 2020) for a contemporary architectural home on 1.2 acres, with pool, gardens and frontage on the Vineyard Sound.
In 2021, West Tisbury sales represented 11% of all transactions on the island and 11% of dollar volume.
Aquinnah
Aquinnah posted decreases across the board in 2021. Transactions declined 12% from 25 in 2020 to 22 in 2021, dollar volume decreased 50% from $59mm in 2020 to $30mm in 2021, and average price dropped 43% from $2.4mm in 2020 to $1.4mm in 2021. However, it is important to note that 2020 was an incredibly strong year for the smallest town on the island and included the $27mm sale of 304 acres of Red Gate Farm to Land Bank and Sheriff's Meadow Foundation. When comparing 2021 numbers to 2019, both the number of transactions and dollar volume increased in 2021 and average price was essentially flat.  
Of the 22 transactions in Aquinnah in 2021, half of them (11) were land sales, five of which were beach lot sales (2 on Oxcart Road and 3 on Moshup Trail). One vacant land transaction was the highest sale of the year for Aquinnah – the $10mm sale of another 32 acres of Red Gate Farm to the Land Bank. The highest residential sale for the town in 2021 was $2.55mm for a waterfront home on Oxcart Road.
This smallest market on the island represented 3% of total island-wide transactions and 2% of total island-wide dollar volume.
DOWN-ISLAND
Edgartown
Edgartown continued its impressive gains in 2021 except for number of transactions which fell 7% from 257 in 2020 to 239 in 2021. Otherwise, Edgartown rallied again in 2021 with a 20% increase in dollar volume (from $529mm in 2020 to $632mm in 2021) and a 28% jump in average price (from $2.06mm in 2020 to $2.65 in 2021).
The trends of specific market segments in Edgartown reflect the dynamics of the island's market as a whole in 2021. The segment under $1mm declined from 78 sales in 2020 to 61 in 2021. The mid-range segment of $1-3mm held steady in 2021 (from 118 sales in 2020 to 117 in 2021). The high-end was the source of Edgartown's growth - sales $3mm+ grew from 41 in 2020 to 61 in 2021. And the market over $10mm increased from to 5 sales in 2020 to 8 in 2021, including the $25mm sale at 17 Faulkner Drive which was discussed in the introduction.    
Edgartown sales represented 34% of transactions and 47% of total dollar volume island-wide in 2021. 
Oak Bluffs
2021 was another strong year for Oak Bluffs with increases across the board. The number of transactions grew 11% from 153 in 2020 to 170 in 2021. Dollar volume was up 44% from $138mm in 2020 to $198mm in 2021, and average price increased 29% from $900k in 2020 to $1.16mm in 2021. Both the mid-range segment of $1-3mm and high-end segment over $3mm posted growth in 2021. In the mid-range, the number of transactions grew from 41 in 2020 to 65 in 2021. For sales $3mm+, there was only 1 in 2020 versus 8 in 2021. The highest sale in Oak Bluffs was the $6.5mm sale of 14R Temahegan Ave, a 1.4-acre waterfront property with 1930s home in East Chop.
Oak Bluffs' transactions represented 24% of transactions on the island in 2021 and 15% of dollar volume.
Tisbury (Vineyard Haven)
Tisbury had a solid performance in 2021 with growth across the board. There was a 4% increase in the number of transactions from 140 in 2020 to 146 in 2021, a 14.5% increase in dollar volume from $161mm in 2020 to $185mm in 2021, and a 10% increase in average price from $1.15mm in 2020 to $1.27mm in 2021.
The growth segment of Tisbury's market in 2021 was the mid-range ($1-3mm) which increased from 41 transactions in 2020 to 56 in 2021. The high-end at $3mm+ held steady with 5 sales in both 2020 and 2021. And sales under $1mm fell from 93 in 2020 to 85 in 2021.
The highest sale in Tisbury in 2021 was the $11.45mm harborfront property at 88 Hatch Road with a renovated 5-bedroom home, sandy beach on the harbor and a dock.
Tisbury represented 21% of transactions and 14% of dollar volume island-wide in 2021.
Entry Level Sales
The entry level segment of the market, all sales under $1mm, continues to decline. The total number of sales under $1mm dropped from 386 in 2020 to 298 in 2021. Additionally, this segment decreased from a market share of 54% of all transactions in 2020 to 42% in 2021. There was a 30% rise in median price in 2021, from $925k in 2020 to $1.2mm in 2021. For buyers in this segment, including local families, it continues to be more difficult to enter the island real estate market. Rising prices and limited inventory have forced many year round residents out of the housing market. 
For local families and workers, there is a serious housing crisis.  The effects of this crisis can be felt throughout the Vineyard community.  We are losing friends and neighbors who move off island.  Essential services are harder to come by as are the amenities which power our economy.  Labor shortages are an ongoing reality.
Local governments and organizations continue to chip away at this monumental issue with zoning by-law changes, rent subsidies and building new affordable housing. The Island Housing Trust, a non-profit developer of affordable housing, reports that in 2021, they were chosen by the towns of Oak Bluffs, Edgartown, and Aquinnah to build a combined 104 affordable homes on town-owned land: 60 rental apartments in Oak Bluffs, 36 rentals and 4 ownerships homes in Edgartown, and 4 rental apartments in Aquinnah. Construction is underway in Tisbury on 20 rental apartments and 2 rental apartments in West Tisbury that will become home to over 60 year-round working residents and their children this coming year. Even with these strides forward, demand for affordable housing continues to far exceed supply. 
The proposal for a Martha's Vineyard housing bank is gaining support. This proposal would implement a transfer tax on real estate transactions on Martha's Vineyard to create a fund for affordable housing.  Modeled in some respects on the 2% Land Bank fee, the housing bank proposal is being vetted at both the state and local level, with much community participation. The goal of community groups is to bring a well vetted proposal to town meetings this spring in 2022 for a vote. To find out more, go to the Coalition to Create a MV Housing Bank website https://www.ccmvhb.org and read about how a housing bank could work.  Here's a letter signed by many of us at Tea Lane Associates in support as well as letters from other community organizations and local boards. https://www.ccmvhb.org/our-supporters
High End Sales
2021 was a record-breaking year for the high-end segment of the market over $3mm, as well as all of the sub-segments above this price point (sales $5+mm, $7+mm, $10+mm) except that the three sales over $20mm in 2021 tied the record with the island's 2015 performance in this highest segment. In 2021, the $3+mm segment of the market represented 48% of total island-wide dollar volume (up from 37% in 2020) and 15% of all transactions. 
Land Sales
Sales of vacant buildable parcels increased 6.7% from 94 transactions in 2020 to 100 in 2021. But the modest increase in transactions translated to a 35% in dollar volume for a total for $146mm in 2021 (versus $108mm in 2020).  These vacant buildable land sales represented 14% of all transactions on the island in 2021
Looking at high-end land sales, there were three transactions over $5mm in 2021 (versus two in 2020). These three sales in 2021 included a 12.3-acre south shore parcel in West Tisbury with Atlantic beach, conservation land, trails and pond frontage/access for $8.55mm, the additional 32-acre parcel of Red Gate Farm in Aquinnah which sold to Land Bank for conservation for $10mm, and a 6.5-acre waterfront parcel on Katama Bay in Edgartown with dock for $14mm.  
Beach Lots represent a separate segment of land sales. These are unbuildable properties which convey ownership in private beaches on the island. This segment jumped up from 4 transactions in 2020 to 11 in 2021. In 2021, 6 sales were in Chilmark and 5 in Aquinnah. It is impossible to hypothesize about this market segment because inventory drives it and the availability of these properties is erratic and unpredictable.
Commercial Sales
The sale of commercial properties jumped for the second consecutive year to 34 transactions in 2021 (up from to 22 transactions in 2020). Of the 34 commercial transactions in 2021, 19 were in Tisbury, 7 were in Oak Bluffs, 5 were in Edgartown, and 3 were in West Tisbury. The highest priced commercial transaction was the sale of Edgartown Marine at 32 Herring Creek Road in Edgartown for $9.3mm.
Commercial transactions represented 5% of transactions and 5% of dollar volume island-wide in 2021.
Conclusion
2021 was an intense year. As the nation and the world tried to navigate through the COVID-19 pandemic with some success and many setbacks, no one could escape being challenged in myriad ways. All the while, in our little corner/island of the world, the real estate market continued to soar beyond reasonable expectations, despite a lack of inventory. This lack of inventory can also be described as an abundance of demand, a demand that built up during the pandemic for a multitude of reasons we described last year (the fleeing from urban/suburban environments for more space/safety, the ability to work remotely, the motivation to fulfil the dream of an island home, the historically low mortgage rates). Competitive bids and quick moving properties created a tough market on the island for many buyers. Sellers benefited from this frenetic market in 2021 with historically high price points and an explosion of overall dollar volume for our island market.
Looking into 2022, as we said last year, it is a great time for Sellers to make a move. 2021 market activity is spilling over into this new year and inventory is low. For Buyers, with inventory at an historic low, the real estate market on the island continues to be extremely competitive. It is important for Buyers to consult with their agent to better understand the market and know specifically what they are looking for so that they can move quickly when the right property emerges.
If COVID has taught us anything, it's how intensely interconnected we all are in the world, even if you try to hide away on an island! The national and international forces at play will affect us here and have a hand in shaping what comes next for the Vineyard. We believe 2022 will be a strong year for the Martha's Vineyard Real Estate market but this moment in time is fraught with fragility and unpredictability. So above all else, we continue to hope for health and stability for our country, our island and all of our, and our clients', families and friends.